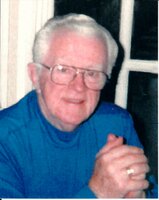 John T. McMachan
John T. McMachan of Somers, NY died early Monday morning, October 11, 2021, peacefully at his home of sixty years.
He was just 94 years old. John was born on September 5, 1927 to Eugene and Ann Marie McMachan in Brooklyn, NY.
John is a Naval Veteran and served in the Pacific Theatre during WWII.
He attended Parson's School of Design and worked for 30 years at CBS broadcasting as Director of Facilities Engineering. He was a pillar of the Somers Community and was actively involved in Somers Lion's Club, The Knights of Columbus, Boy Scouts and Saint Joseph's Church.
John is survived by his beloved wife, Sue and three adoring children: Sean, James and Susan. He is the devoted grandfather of Katelyn, Dillon, Sean, Conor, Victoria, James, Alicia and Ryann. John is the loving brother of Helen Terranova. He is also survived by many nieces and nephews. He will be missed by all.
Friends may call at Clark Associates Funeral Home, 4 Woods Bridge Road, Katonah, NY on Friday, October 15th from 9:30 to 11:00 AM.
Following, a Mass of Christian Burial will be celebrated at St. Joseph's Church, 95 Plum Brook Road, Somers NY at 11:30 AM.
Interment will be private
Memorial contributions may be made to:
Somers Volunteer Fire Department, 119 Route 139, Lincolndale, NY 10540
Shriners Hospital for Children, 2900 Rocky Point Drive, Tampa, FL 33607