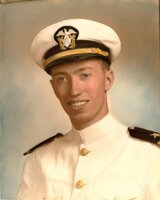 Clinton Stewart Seibert
Clinton Stewart Seibert
Clinton Stewart Seibert, 92, a resident of Katonah for 40 years, died on November 5th at Northern Westchester Hospital in Mt. Kisco, NY, after a long illness. He was predeceased by his wife, Elizabeth Anne Seibert, in 2016, and a brother, Stewart C. Seibert Jr., in 1927.
Born in Norristown, PA on September 9th, 1929, he was the son of the late Stewart C. and Marguerite A. (Hunter) Seibert. He was a 1947 graduate of North Wales High School in North Wales, PA and a 1951 graduate of Penn State University.
Clinton enlisted in the United States Navy in 1949 and served during the Korean War, ultimately achieving the rank of Lieutenant. He proudly served onboard the USS Columbus, the USS Adirondack, and the USS O'Brien. After leaving the Navy, he joined IBM in 1963 and worked as a software developer and financial analyst until his retirement in 2009.
He married Elizabeth Anne Jopson in 1972 in Surrey, England. They lived in Walton-on-Thames and Woking, England before moving in 1977 to Helsingør, Denmark. They moved to Katonah in 1981.
Clinton enjoyed gardening, jigsaw puzzles, spending time with family, model railroading, and watching sporting events with his son.
He is survived by his son, Richard S. Seibert and his daughter in law, Anna Bożena Seibert, both of Katonah, and many cousins.
Memorial services were held on Tuesday at Clark Associates Funeral Home in Katonah. Internment with military honors followed in Oakwood Cemetery in Mt. Kisco.
Memorial contributions in his memory may be made to a charity of your choice.