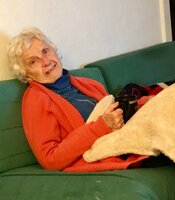 Patricia A. Gough
Patricia A. Gough of Katonah, New York passed on November 18, 2021.
Pat was born on September 1, 1933 in Long Beach, New York. She graduated from Brentwood Academy in Long Island, and she lived her adult life in Bedford and Katonah, New York.
Pat is the beloved mother of Judy (Robert) Best, Karen (Chip) Greenwood, Paula (Mario) Genovesi, Malcolm (Mary Grace) Rizzuto and Pam (George) Giacobbe. She is the loving Nana to twelve grandchildren and seven great- grandchildren.
Pat will be remembered for her love, her kindness to all, and being a wonderful Mom and Grandmother. She will be deeply missed by her family and Carol Crennan, her devoted friend for the past eighty years.
Memorial contributions can be made to The Community Center of Northern Westchester, 84 Bedford Rd. Katonah, NY 10536.