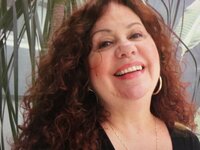 Susan E. Miranda
Susan Miranda of Somers NY, formerly of Pound Ridge passed away November 18th. She spent her last few days surrounded by those who loved her most, including her grandson Mac.
An artist in every sense of the word, Susan loved creating with Mac and she was surrounded by their art.
Susan was a native New Yorker, attended Forest Hills High School and then Parsons School of Design, graduating in 1963.
Her creative endeavors led her in many different directions including, dance, graphic design and clothing design. She made stage clothes for many Jazz and Blues greats including Count Basie, Joe Williams and Carmen McRae. Her son Raphael and daughter Renata practically grew up at the Blue Note, spending many nights up way past their bedtime with mom.
She was a free spirit, and those who met her will remember a warm, creative and passionate soul. She loved her children, and her pets (which at various times included an ocelot and peacocks) but mostly Persian cats. She also adored Fracas perfume, and Paris. Her travels also took her to South America where she felt most at home in Bahia, Brazil.
She cared deeply about bringing art to those who might not have access to it, and spent time teaching art to children in public school in the Bronx.
Memorial contributions can be made to: Arts for All : http://www.arts-for-all.org/donate
There will be a small, private family memorial in the future.