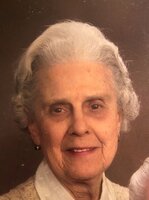 Mary Jane Dubiny
Mary Jane (Cardozo) Dubiny, "Aunt Jay", age 88, of South Salem, NY passed away peacefully at home on December 11, 2021.
Mary Jane was born February 4, 1933 and raised in Yonkers, NY. She attended schools there and graduated from Roosevelt High School. She was a graduate of Westchester School of Nursing and received a BS in Nursing from NYU.
Mary Jane worked in many areas of nursing for 50 years and authored a nurse's dictionary. She taught nursing for the majority of her career. She was President of the School Nurse Teachers of Westchester Co. for several years. Prior to retirement, she was employed by Mt. Kisco Medical Group working in OB, then Pediatrics.
In Sept 1960 she married Paul I. Dubiny. They lived in Hastings-on-Hudson for 10 years then moved to Lewisboro. She remained an active member of the Holy Trinity Lutheran Church in Yonkers.
Mary Jane is survived by her beloved husband of 61 years, Paul I. Dubiny. Mary Jane was predeceased by her parents Joseph and Mary (Kolesar) Cardozo and her sister Dolores LoSapio of Yonkers. Also survived by many nieces and nephews, great nieces and nephews and great great nieces and nephews and numerous step nieces and nephews.
Family and friends may visit at Clark Associates Funeral Home, 4 Woods Bridge Road, Katonah, NY on Wednesday, December 15. 2021 from 2:00 to 4:00pm. A service will be held at the Funeral Home at 3pm during the visitation.
In lieu of flowers, contributions may be made to Holy Trinity Lutheran Church, 56 Mulberry St. Yonkers, NY 10701 or to Sjogrens Syndrome Foundation,10701 Parkridge Blvd, Suite 170, Reston, VA 20191