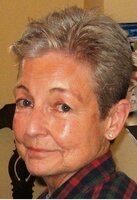 Janet Anne Davis
Janet Anne Davis "Anne" of Bedford, NY, died Wednesday, December 8, 2021, at Northern Westchester Hospital. Anne was 72
Anne was born at Northern Westchester Hospital on April 27, 1949, to the late Douglas and Janet Donaldson. Anne was a graduate of Fox Lane High School and attended Drew University in New Jersey. She worked as an executive secretary for various local companies and retired from SwissRe in 2015.
Anne is survived by her sisters Evelyn Case, of Somers, and Julia Newton and brother-in-law, Simon Newton, of Bedford. Anne is also survived by her two nephews, Michael (Darcy) and David (Meghan) and their children. She is also survived by her beloved dog, Sweetie, who now needs a good home.
Anne's childhood was filled with animals. She grew up with dogs, cats, rabbits, hamsters, guinea pigs, turtles, goats and horses. Her love of animals evolved into rescuing several dogs over the years.
Family will receive friends for the Memorial Visitation on Tuesday, December 14, 2021 from 3:00 to 5:00PM at Clark Associates Funeral Home, 4 Woods Bridge, Katonah, NY.
In lieu of flowers, Anne would prefer donations to the ASPCA. Donations can be made at https://www.aspca.org/