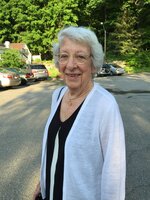 Margaret W. "Peggy" Van Tassell
We are saddened to announce the passing of Margaret (Peggy) of Goldens Bridge NY
Our dear Peggy passed peacefully in her sleep surrounded by loved ones on Sat, Dec 25. She was 95.
Peggy graduated from Wellesley College in 1948. Wife of the late Robert F. Keegan and second husband Wayne VanTassell. She leaves daughter Susan Keegan, Albany NY, Robert (Buz) Keegan, Scottsdale AZ and Carrie Carrizosa, Boston, MA, grandchildren Shira Martorana, Ruben Carrizosa Jr, Julia Carrizosa, Michael Keegan and Jonathan Keegan. She also leaves behind great grandchildren and many cherished nieces, nephews, dear friends and her adored Labrador, Alana.
People who knew Peggy say she was such an inspiration.
Peggy volunteered at the Stephen Ministry, the Womens Civic Club of Katonah, and Guiding Eyes to name a few.
She was an active member of the Katonah Presbyterian Church and her bridge club. Her bridge partners will be saddened, and her opponents may be relieved. Peggy was always ready to lend a helping hand to make the world a better place.
The memorial service will take place Sunday,February 27 at 3 PM at the Katonah Presbyterian Church, Katonah, NY
Contributions in Peggy's memory may be made to either Katonah Presbyterian Church, 31 Bedford Road, Katonah, NY 10536 or Guiding Eyes, 611 Granite Springs Road, Yorktown Heights, NY, 10598