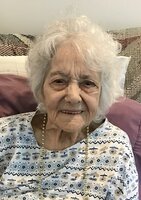 Mary Perillo
Mary Perillo of Port Chester, NY, passed away Sunday, December 26, at the age of 103. She was born in Rye, NY, on February 10, 1918 to Anthony Roberto and Mary Vechiolla Roberto. A homemaker and parishioner of Holy Rosary Church in Port Chester, she also worked at a parachute factory during the Second World War. She loved music and dancing. She also enjoyed spending time at Oakland Beach in Rye and Port Chester's Don Bosco Nutrition Program with many friends.
She was a loving mother, grandmother and sister predeceased by her parents and siblings; brothers Lawrence, Joseph, Dominick and Anthony Roberto, and sisters Matilda Vissa and Grace Coviello. She is survived by her daughter, Cheryl Barbieri of Katonah, NY, and one grandchild. There will be no public viewing. Interment will be at Saint Mary's Cemetery in Port Chester.
Memorial donations may be made to the Salvation Army.