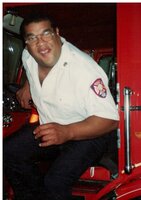 Mark Aaron Rutherford
Mark A. Rutherford, of Bedford Hills, New York, passed away on Saturday, February 5th, 2022 at his home.
Mark was born on September 8th 1956 in Mount Kisco, New York to the late James and Barbara Rutherford, Sr. He was a 1974 graduate of Fox Lane High School in Bedford, New York.
He retired from the Town of Bedford Highway Department as a foreman in 2020 after over thirty years of service.
Mark joined the Bedford Hills New York Volunteer Fire Department at the age of 18 and continued to serve for 47 years. Mark was also a member of the Sons of the American Legion Post #1575 in Katonah; NY where held the position of Sergeant at Arms.
Mark was an avid outdoorsman who loved to hunt and fish. He was only allowed permission to skip school one day a year, April 1st , which was for the opening day of trout season. His love for the outdoors was formed by his grandfather, Frank D. Scott.
He raced cars at the Middletown Dirt Track Racing circuit. His team's name was Rutherford Racing and his street stock car number was 21R. His major accomplishment was when he finished second in a race. Word has it that he was "assembling" a car to race at Middletown, New York race track this coming season.
Mark's demeanor left an indelible impression of anyone who met him. His kindness, generosity and trustworthiness are some of the key elements of his character.
He leaves to mourn, his sister Karen Hanratty of Stamford, Ct., nephew and his nephew's mother, James Rutherford III of Walkill, NY and Ruthanne Bowles of Warwick, NY. He was predeceased by his brother, James L. Rutherford, Jr.
Friends may call at Clark Associates Funeral Home, 4 Woods Bridge Road, Katonah, NY on Saturday, February 12th at 11:00 am with celebration of life at 1:00 pm.
Memorial contributions may be made to the Katonah American Legion and Sons of the American Legion Post #1575, 136 Jay Street, Katonah, New York 10536.
Clark Associates is inviting you to a scheduled Zoom meeting.
Topic: Mark A. Rutherford Service
Time: Feb 12, 2022 12:30 Eastern Time (US and Canada)
Join Zoom Meeting
https://us06web.zoom.us/j/81957554606?pwd=UXJteEdwNy80VjhaWmZRZmVKUEhxQT09
Meeting ID: 819 5755 4606
Passcode: 552512