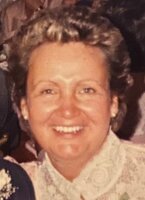 Barbara Woodstead
Barbara Way Griswold Woodstead
May 14, 1944 – May 26, 2022
Barbara Way Woodstead (née Griswold), passed away May 26, 2022 after a valiant fight against pancreatic cancer. She was born May 14, 1944 in Norwalk, CT to Howard and Marjorie (Lozier) Griswold. Barbara was raised and lived in South Salem, NY, where she married her "Honey Bunch," the love of her life, Harold on October 27, 1962 and where they raised their three boys.
Barbara had a strong presence in the community, working in the Town of Lewisboro Building Department for 29 years, as well as the Vista Fire District, in the positions of Secretary and Treasurer spanning 39 years. Her appreciation and respect for the Vista Fire Department and its members was immense, which she also showed by her volunteerism in the Vista Fire Department Auxiliary.
For many years, she was an active league bowler as well as softball player, card player, and enjoyed the comradery and friendships formed throughout her time playing. Her love for games carried through to bingo, which she truly enjoyed playing, even after her diagnosis.
Her enthusiasm for life and her family was immeasurable and her optimism limitless.
Barbara is survived by her husband Harold, sons, James (Dawn) of Cooperstown, ND, Steven (Laura) of South Salem, NY, Robert (m.Michelle) of Brewster, NY and honorary son Ismael (Rosa). Grandchildren, Kendra, Grace, Claire, James, Daniel, Abby, Robert, Emmaly, Andrew, Catherine, Shawn, Alan, Kaise, Danielle, Amelia and Nicholas, great grandchildren, Emma, Bryson and Rhys, brother Douglas (Laura), sisters Miriam and Jean, as well as numerous nieces, nephews, and family. She was predeceased by her parents and sister Lois.
A life, so beautiful, deserves a special celebration. You are invited to help us honor and celebrate Barbara's life. Leave your sadness at the door, bring your stories, your laughs, and your happiness for a life that was lived to the fullest.
The celebration will take place on June 26, 2022 from 1:00 pm to 5:00 pm at the Vista Fire Department, 377 Smith Ridge Road, South Salem, NY 10590.
In lieu of flowers we ask that a donation be made in her name to a pancreatic cancer research charity of your choice.