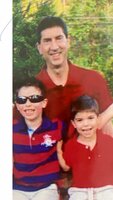 Donald J. Melillo, Jr.
In loving Memory of Donald J. Melillo Jr. of Somers, NY, who passed away Friday July 08, 2022 at Putnam Hospital. Donald was born on March 7th, 1963 in Yonkers, New York to the late Donald and Theresa Melillo. Donald is the beloved husband of Paola Melillo and is the loving father of Joseph and Anthony of Somers, NY, and is also a brother to Karen Melillo of Somers NY.
Dad you've always been there to give us the guidance and support as well as your love and your protection, You taught us how to live a life of strong values. And by your example, we have learned how to be honest people. Few men have the wisdom to be a good father, and you are one of them, for all that and more, we thank you.
We hold our memories in our hearts, like I have once held your hand, it's like we feel you are with us even though you're are not here. We are sure you are still watching us from heaven, so we will try to be good everyday, that special smile that caring heart, that warm embrace, you always gave us. You being there for Mom and us through good and bad times, no matter what. We'll always remember you Dad because they'll never be another one to replace you in our hearts, and the love we will always have for you, will miss you everyday. Though soft spoken and quiet, you were loved by many and will stay with us forever. Love Joey.
He was a great dad, he would always listen to me, He would always get me what I wanted, he always help me, I will always miss you. Love Anthony