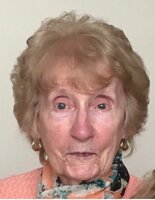 Eileen McSpedon
Eileen McSpedon peacefully passed away Monday July 25th, 2022 at the age of 92. Eileen (affectionately known as Gram or Gigi) was born December 16th, 1929 to Raymond and Julia (Doyle) Farrell during the depths of the Great Depression in Yonkers, NY. She was one of 11 children and was the final surviving member of her siblings. She was married to John (Jack) McSpedon and raised five children (Joseph, John, Diane, Eileen and Elizabeth) in Yonkers. She was predeceased by her parents Raymond and Julia, husband Jack, daughter Diane, son John, her many sisters, brothers and grandson Michael.

Eileen was a woman dedicated to her family and she made a large impact on her grandchildren and more recently great grandchildren. She played a key role in raising the grandchildren and recently enjoyed caring for and reading to her great grandchildren. She often accompanied her children and their families on trips enjoying good food, wine and lots of laughs along the way. Eileen passed along her voracious passion for reading and extremely competitive spirit for games to all her family. She greatly enjoyed game night with her friends and family. Her infectious laugh will be greatly missed.

She is survived by three children and their spouses, Joseph McSpedon (Sheila), Eileen Royael (Edward), and Elizabeth Czop (Henry), eleven grandchildren, thirteen great-grandchildren, many nieces and nephews; and both sisters and brother-in-laws. She left an indelible mark on her family and friends.

A Catholic Funeral Mass will be held at 10 AM on August 19th, 2022 at the Gate of Heaven Cemetery, 10 West Stevens Ave., Hawthorne, NY.