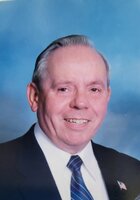 George R. Werner
George Robert Werner (83) of North Salem NY, passed away peacefully in his sleep on August 20 , 2022.
His persistent fight with serious health issues over the past few years is a testament to his unwillingness to compromise his love for the life that he built for himself through decades of hard work.
George was born in Port Chester, New York to Margaret and Frank Werner. He grew up in Rye, NY. His love of boats and the sea lead to his proudest achievement serving in the United States Navy on the USS Yosemite. After his years of service he parlayed his technical skill as a gunsmith into a career as a small business owner. George loved his wife and their Saturday trips to West Point during the football season. Crossing service branch loyalty he become a master cook and tailgate technician and his love for cooking shows continued till his passing day.
George joins his beloved wife Constance in Heaven, whom preceded him in death. He is survived by his four sons; Robert and his wife Beverley, Tom (his favorite), Richard and his wife Christina, William and his wife Alicia. Loving grandfather to Linda, Gretchen, Aubree, Elinor, Holly, Sam and Nicholas.
The Mass of Christian Burial will be celebrated on Friday, August 26th at 10:00 am at St. Joseph's RC Church,95 Plum Brook Road, Somers, NY 10589 .
Interment will follow at Ivandell Cemetery, Route 202, Somers, NY 10589.