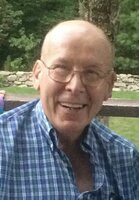 Richard Posadas
Richard Posadas, "Rich," formerly of Katonah, NY, passed away on Saturday September 17, 2022.
Richard was born on July 25, 1936 in Port Chester, NY to the late Helen Gregor. Early on, Rich showed an aptitude for sports. He went on to play professional ice hockey and semi-professional baseball. He shared his love of sports by coaching hockey at the high school level, then going on to coach his son's teams at Hickory Hill.
Richard dedicated his life to helping others. Rich served in the United States Army and later, as a member of the NYPD. In 1977, he retired from the 44 Precinct, Bronx, NY and started a general contracting business. Rich was also a volunteer fireman at Goldens Bridge Fire Department. He ended his working years by being the caretaker of the Lake Katonah Community.
Rich was an avid sailor and a long-time member of Sprite Island Yacht Club. He enjoyed sailing boats wherever he could, especially on the Long Island Sound and in the Caribbean. At Sprite Island, Rich was known for fixing whatever needed to be fixed and building whatever needed to be built.
Rich is survived by his loving wife Marian, their two children, Joseph (Michelle) and Beth (Bob Maliniak) and his four grandchildren Erica, Tyler, Matthew, and Melissa.
The Mass of Christian Burial will be celebrated on Saturday, October 1, 2022, at 10:00am at St. Mary of the Assumption, 55 Valley Road Katonah, NY, 10536. A reception will follow at the Goldens Bridge Fire Department, 254 Waccabuc Rd. Goldens Bridge, NY 10526.
In lieu of flowers, please send donations to the Goldens Bridge Fire Department https://www.goldensbridgefd.org/ or Friends of John Jay Ice Hockey, PO Box 570, Cross River, NY 10518.