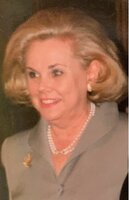 Hope C. Niceta
Hope Crosson Niceta was born on January 25, 1942 and died on November 2, 2022. She was almost 81 and lived a full life.
Hope was the daughter of Mary "Mae" Crosson and noted political journalist John Crosson. In 1968, she married Dr. Piero Niceta and the two began a 54-year-long marriage that was full of loving commitment, and devoted to the love, support, and care of three daughters and ten grandchildren, who definitively knew her as "Granny."
Though Hope lived much of her life in New York City and Westchester, she took pride in her worldly refinement. From childhood travels to Europe with her uncle, Fr. Matt, to living in Milan early in her marriage, to visiting her sister in southern Spain, to her enthusiastic Anglophilia, Hope valued the diversity of the world and made sure everyone around her did, too. Trained as a teacher at The Convent of the Sacred Heart at 91st Street, she was a clever prankster, a gifted storyteller, and an avid reader.
Hope had an eye for details, an ear for standards, a voice for a witty rejoinder, an appetite for a chicken salad sandwich (tomato, no lettuce on a hard roll) and a Pepsi, and a heart for her family, especially her grandchildren.
She is survived by her husband, her three daughters, Alessandra (Clayton) Rose, Rickie Niceta, and Marina (Gustavo) Niceta de Palazzi, her adored grandchildren, Harry, Nico, Marco, Berit, Fiona, Teddy, and Mateo, her brother, John (Kathy) Crosson, and her nieces and nephew, Tina, Kayle, and Stevie. And Tira Grey.
In addition to her parents, she was predeceased by her sisters, Peggy (Jim) Fay and Charon (George) Moore, her grandchildren, Charlie, Maggie, and Peter, and her niece, Pia. We can only imagine how glorious their heavenly reunion must have been, and know she was especially overjoyed to see her father again, whom she dearly missed for almost 70 years.
Her husband and daughters would like to thank everyone who showed her and her family such kindness during her long illness: you made these challenging months easier for all of us and we are grateful.
Hope's full and wonderful life will be celebrated at the Mass of Christian Burial on Tuesday, November 22, 2022 at 10:00am at St. Patrick's Church,7 Pound Ridge Road, Bedford, NY. Interment will be private for the family immediately following the Mass.
The family respectfully requests that memorial donations be made to the Charlie Rose Memorial Fund at Endeavor Therapeutic Horsemanship.