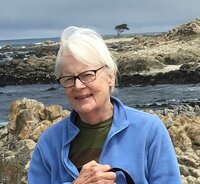 Polly Pratt Goodwin
Polly (Pratt) Goodwin, a resident of Katonah and South Salem for 32 years, passed away on November 4. She was 80.
Polly was born on April 23, 1942, in Sault Ste. Marie, MI, to Ann Osborn Pratt and Stanley Randall Pratt. She was raised mostly in Sault Ste. Marie before leaving to attend the University of Michigan, from which she graduated in 1964. She subsequently obtained a Master's degree from the Pratt Institute. She eventually settled in New York City, where she met Ira Goodwin. They married in 1979, moved to South Salem in 1990, and then to Katonah in 2001.
She was heavily involved in the Katonah and Northern Westchester community. Chief among her activities was her role as Director of the Katonah Community Center (now the Community Center of Northern Westchester), and her volunteering with Guiding Eyes for the Blind. She was also a member of the Croton Valley Friends Meeting.
Polly will be remembered for her quick wit and generosity. She loved all things living: people, animals, or plants. She was an avid gardener who was happiest pulling weeds or going on botanical walks with her local friends. She was always with a book or iPad in hand, reading everything from news to novels. Last, and certainly not least, she was an avid Mets fan who got to see a game for her 80th birthday.
She is survived by her husband Ira Goodwin, her son Andrew (Jennifer), and her step-children Matthew (Lycia), Daniel (Sara), Kenneth (Kelly), Naomi Gravelding (Dan), and Joshua (Betsy), as well as 14 loving step-grandchildren. She will also be dearly missed by her brother Nick Pratt (Carol) and her extended family. Polly was pre-deceased by her brother: Stanley Pratt, III in 2013. She touched the lives of many friends and acquaintances throughout her times and travels through New York, Michigan, and around the world.
Interment will be Private
A Memorial Service will be held in Spring 2023
lieu of flowers donations may be made to Guiding Eyes for the Blind or Croton Valley Friends Meeting.