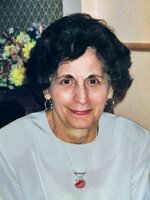 Frances Longinotti
Frances Marie Longinotti, nee Loconsolo, age 96, of Yonkers, NY, passed away peacefully on February 23, 2023.
Frances was born in New York, New York to Lorenzo Loconsolo and Angelina Piccirillo Loconsolo. She went to Christopher Columbus High School in Bronx, NY. She was preceded in death by her beloved husband, Frank. She is survived by their children, Joan and husband Stephen, Barbara and husband David, Marian, and Frank, as well as her wonderful grandchildren whom she loved dearly, Stephen, Michelle, and Christina. She is also survived by her sisters, Edith, Florence, Barbara and husband Pravin, and many nieces and nephews. Frances was also preceded in death by her parents, as well as her older sister, Josephine.
Visitation will be held at Clark Associates Funeral Home, 4 Woods Bridge Rd, Katonah, NY, on Sunday, February 26, from 2-6pm. A funeral mass celebrating Frances' life will be held at St. Joseph's Catholic Church, 95 Plum Brook Rd, Somers, NY, on Monday, February 27 at 10am. Burial will follow at Long Island National Cemetery in Farmingdale, NY. Clark Associates Funeral Home will be handling the funeral arrangements.
In lieu of flowers, memorial donations may be made to the Alzheimer's Association, www.alz.org, or St. Jude Children's Research Hospital, www.stjude.org.