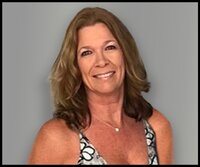 Donna Marie Knox
Donna Marie Knox, 65, was a beloved wife, mother, grandmother, sister, and friend. Surrounded by her family, she passed on Monday, February 27th, 2023 at Northern Westchester Hospital.
Donna was born on February 12th, 1958 in White Plains, New York to the late Roger and Marion Davis. Donna graduated with her bachelor's degree from Pace University. She later received her Juris Doctor from Albany Law School, where she met the love of her life and husband, Ron Knox. They spent 35 wonderful years married and, together, had four children: Ron (wife Silvia), Colin (wife Laura), Raegan (fiancé Miles), and Courtney. Donna is the devoted grandmother, "Mimi," to Sloane and Paige as well as a baby boy who is expected in March. Donna is the sister to Rick and Doug Davis.
Donna had many talents and passions, including tennis, hiking, and making the best apple pie known to man. She had an appreciation for the simple things in life – reading a good murder mystery on the porch, gardening on a summer day, and spending time with loved ones.
Donna conducted herself with the utmost honesty and integrity in every aspect of her life, all while doing so with a smile on her face and an unparalleled sense of humor. Donna will forever be remembered for her candid demeanor, her genuine kindness and thoughtfulness, and her ability to make those around her feel loved. Donna's greatest pride and joy was her family, by whom she will be dearly missed and forever loved.
Visitation will be held in Donna's honor at Clark Associates Funeral Home, 4 Woods Bridge Rd., Katonah, NY on Friday, March 3rd from 4-8PM. A memorial service will take place on Saturday, March 4th from 10:30-11:30AM at the same location.