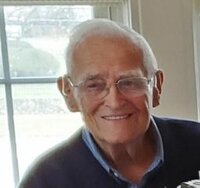 Patrick J. Hart
Hart, Patrick J., 94 of Katonah, NY died April 28, 2023 at The Atria in Briarcliff Manor.
He was born on April 18, 1929 and was a lifelong resident of the Town of Bedford.
His late parents Patrick J. Hart, Sr. and Johanna (Lynch) emigrated from Ireland. He was a U.S. Army veteran and served with the 8108th Army unit on Okinawa during the Korean War.
Pat graduated from S. Mary's High School and was a classmate with his beloved wife, Mary (nee Flynn). He matriculated in evening classes at Iona College where he received a BBA degree. He was a member of IBT Local 338, and served as a Business Representative and President for many years. In 1980 he was appointed a Commissioner of Mediation with the Federal Mediation & Conciliation Service (FMCS) and served as a mediator in the New York area. After retirement from the FMCS Pat continued to serve the Labor Management community as an Arbitrator.
Pat had first become chairman of the Town of Bedford Democratic committee in 1959 and both he and his wife, Mary, were guests at the Inauguration of President John F. Kennedy and his Presidential Ball. In 1968 he was an Alternate Delegate at the Democratic National Convention in Chicago. In 1970 he served for a term on the New York State Democratic committee.
Pat was a longtime associate member of the Bedford Hills Fire Department, the American Legion and the Friendly Sons of St. Patrick. He was a New York Yankee fan and a member of the New York Giants Season Ticket Holder Hall of Fame.
Pat was the Loving Husband of the late Mary and they had six children; Patrick, Jr., (deceased); Daniel of White Plains, NY; Mary Brooks (Dr. John Brooks-deceased) of Arroyo Grande, CA; Michael (Martha) of Shortsville, NY; Kathleen of Longview, TX and Brian (deceased).
Pat and Mary have seven grandchildren; Sean (Mandy) of Lafayette, LA; Katherine Hart (Robert Dunn) of White Plains, NY; Kaitlin Brooks of Arroyo Grande, CA; Meghan Champeau (Jeremy), New Canaan, CT; Rachel Melhus (Leif) of Newtown, CT; Amy Brooks of Portland, OR; Ian Brooks of Bend, OR.
Also survived by six great-grandchildren, Maci Hart of Lafayette, LA; Jade and Oliver Rabitoy of Arroyo Grande, CA; Erik Melhus of Newtown, CT; Nicholas Dunn of White Plains, NY and Esme Champeau of New Canaan, CT.
Pat was predeceased by brothers John and Timothy.
Friends may call at Clark Associates Funeral Home, 4 Woods Bridge Rd., Katonah, NY on Wednesday, May 3, 2023 from 3 to 7 pm.
The Mass of Christian Burial will be celebrated at St. Mary's RC Church, 55 Valley Rd, Katonah, NY on Thursday May 4 at 11:00am
Interment will follow at St. Francis Cemetery in Mt. Kisco, NY
In lieu of flowers Pat requested that donations be sent to St. Jude's Children's Hospital. www.stjude.org.