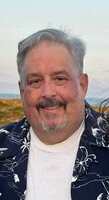 Peter Reddy
Peter James Reddy died suddenly on May 1, 2023.
The son of the late Dr. Thomas Reddy and Dr. Josina van der Maas, he was born on December 15, 1960, in Urbana, IL.
In 1965, his family moved to Pound Ridge, NY, where he attended grade school and later graduated from the Fox Lane High School in 1979.
He attended Vassar College, where he obtained his BA in Physics, then went on to earn his Masters Degree in Computer Science from Pace University.
He worked in corporate network design and implementation for major banks and corporations, including IBM, AT&T, and JP Morgan Chase.
He grew up loving ice hockey, theater, camping and his time with the Boy Scouts.
He was an avid, lifelong fan of cinema and the NY Rangers, quick with a pun and a witty sense of humor.
He and his late wife, Judith Marie Williams, lived in South Salem for over 25 years, where they raised their 2 daughters. He is survived by his daughters, Natalie Reddy and Lauren Reddy, his brother, David Reddy of Columiba, SC, his sister, Dr. Josina Reddy of San Francisco, CA, and his mother, Dr. Josina van der Maas of City Island, NY.
A celebratory memorial will be held at a future date for family and friends.