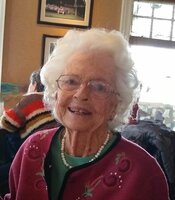 Pauline H. Winans
Pauline Harrison Winans, lifelong resident of Bedford, NY, died on Sunday May 7, surrounded by her four children. Polly was born in New York City on April 12, 1925 to James L. and Pauline M. Harrison.

Polly loved life! She led with joy and a devotion to others, and she never met a stranger. She was clever, creative, adventurous and never missed a joke! Polly was a wonderful wife, first to Walter E. Winans for 55 years then at 82, she married Robert M. Finn for 12 happy years. Polly was a wonderful mother, mother-in-law and grandmother.

Polly's interests and talents were reflected in the life she lived. A devoted member of St. Matthews Church, she sang in the choir, served as junior warden, and created The Saving Grace cookbook. Her children attended the Rippowam-Cisqua School, where she headed the parent's council at the time the schools merged and co-chaired the "Affair in the Field," Ripp fundraiser. Polly attended at least 21 field days! She loved Bedford and did all she could to support events related to its history and the traditions she treasured. She adored the 4th of July fireworks at the Bedford Club (inaugurated by her father) and was delighted at the crowd they drew.

Polly always held a deep appreciation of the classical arts. She was a docent at The Met, committed to introducing school children to this ancient and compelling history. She was an active member of the Bedford Garden Club. From a long line of devoted gardeners, she worked tirelessly in her own vegetable and flower gardens, often experimenting with new plants and methods of cultivation.

Polly loved horseback riding, racquet sports, and skiing. She thrived in the natural world. Taking a walk with Polly was an education in birds and plants. She followed the stages of the moon and always tracked the weather.

Polly cherished her time on earth and will be greatly missed by her family and friends. She leaves her children Penny Winans (Zoltan Kovacs), Sandy Winans (Sandra), Jane McKim (Tom), and Eliza Rossman (Jim), her grandchildren, Sam and Tom Winans, Will, Polly and Carrie McKim, and Harry, Jane and Ned Rossman and 6 great grandchildren.

Polly's memorial service is scheduled for Friday, May 19th at 10:00 at St Matthew's Episcopal Church, Bedford, NY.

Donations in her memory may be made to St. Matthews Church or The Bedford Garden Club.