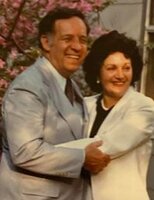 Doris L. Kaplan
Kaplan, Doris L., of Somers, New York, died peacefully in her home May 18, 2023 at the age of 93.
Dorie was born in New York, New York to the late Betty and Benjamin Bressler. She graduated from High School of Music and Art in Manhattan and received her undergraduate dregree from Adelphi University, majoring in Education. She worked as an elementary school teacher, an office manager and an assistant at the Motor Vehicle Bureau while raising three children. She was a proficient pianist and a lover of animals.
Dorie was married to Clifford Kaplan (deceased). She is the beloved mother of Karen Solomon of Boston, Laurie and William Young of Norwalk, Connecticut and Harry and Kee Kaplan of Towson, Maryland. She is the grandmother of Ben and Emily Solomon, Victoria Solomon, Elizabeth Young, Molly Young, Aaron Young, Maddy Kaplan and Noah Kaplan. She is the great grandmother of Maisie and Libbie Soloman.
Her life will be celebrated by a private family ceremony.
Memorial contributions may be made to the New York Times Neediest Cases Fund, PO Box 5193, New York, NY 10087 or to the World Wildlife Fund.