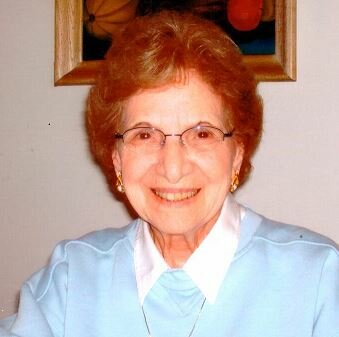 Obituary of Angelina C. Moore
Angelina C. Moore, 103 years old, of Katonah, NY, passed away peacefully surrounded by her family, to be with her beloved late husband, Frank L. Moore, on Tuesday, December 7, 2021.
Angelina, "Ann" was born in Mt. Kisco, NY and was predeceased by her parents, Pasquale and Marietta Cimerola and her eight siblings. She was married to the love of her life her late husband, Frank Moore of over 55 years and is survived by her daughter, Karen Moore, and her adored and precious grandchildren: Karen Hamilton (Donald); great grandchildren: Alan Hamilton (Rachel); Samantha Pratt (Lee); Donald Hamilton (Kristen) and eight great-great grandchildren: AJ Hamilton, Angelina Hamilton, Isabelle Hamilton, Haylee Pratt, Zayne Pratt, Zoey Pratt, Dylan Hamilton, Noah Hamilton and many nieces and nephews.
Ann graduated Mt. Kisco High School with High Academic and Athletic Honors and during her high school years was chosen as an outstanding artist entering into an advanced art program only few were chosen to be a part of. During the 1940s she was an entrepreneur and one of only a few women owned businesses co-owning a tailor and dry cleaning establishment. She was also the co-owner along with her husband, Frank, of M&M Auto of Katonah, NY for over 50 years.
Ann deeply loved and cherished her family and spent her entire life dedicated and devoted to each and every one of them, making sure she was always there for them and they were always happy and well fed as she loved to cook the most delicious, large, very large Italian meals for her family and friends; everyone would gather in "Ma's", Grandma's house where you were surrounded by love, laughter and making a life time of memories that filled our hearts forever.
Ann was an active member of the community for over 45 years as a member of the Katonah Lionets, Women's Civic Club of Katonah and a Soprano Singer with the Civic Club Singers performing at nursing homes, hospitals, healthcare centers and assisted living facilities. She also volunteered her time throughout the years with the Lionets Club to help the elderly with meals, appointments and supplies for their home.
She enjoyed life to the fullest, loved music and singing, taught herself how to play piano, was an avid reader, an accomplished artist specializing in reverse painting on glass and watercolor painting and traveled the world with her precious husband, Frank. She always made sure she played with all of the grandchildren regardless of their age or hers, all the way to her 103rd birthday. She had a great sense of humor and an ongoing quest for knowledge and could often be seen on the back deck of her grandchildren's home watching hummingbirds with her family
Ann was adventurous and ahead of her time: she went hot air ballooning at the age of 89, continued traveling well in to her 90s, drove the golf cart for her family at the golf course at the age of 100 and bought a new candy red sports car with speed handles on the driver's column at the age of 94 and drove it until she decided at the age of 99 to give up her keys because there were "too many crazies out there." Ann could also be found during the summer in the backyard with her family enjoying a good hotdog and an ice cold glass of Heinekin beer.
There was no stronger love than the love Ann had for her family. Everyone absolutely loved and adored Ann and felt blessed to have had her in their life. She is always described by family and friends as a loving, kind, giving and compassionate, a gentle, gracious and immensely thoughtful person filled with pure goodness and love and never having an unkind word about others. She was someone who filled your heart with happiness and love and taught us that her love will never leave us as she will always be by our side, forever.
To honor Ann's wishes there will be a private Graveside Service.
In lieu of flowers, memorial contributions may be made to St. Jude's Children's Hospital
Share Your Memory of
Angelina

4 Woods Bridge Road | Katonah, New York 10536
Phone: (914) 232-3033 | Fax: (914) 232-7896 | Email: info@clarkassociatesfuneralhome.com