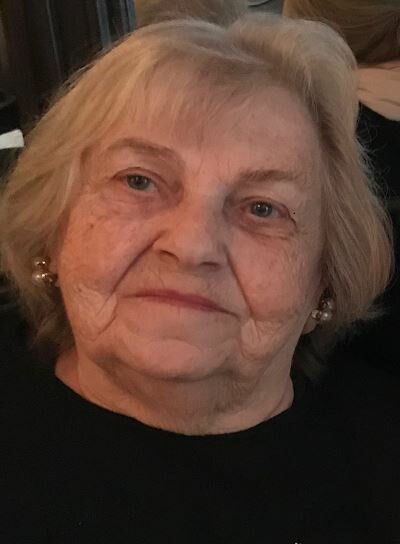 Obituary of Diana Nastuk Saunders
Diana Nastuk Saunders, of Westchester County, NY, died on Saturday, January 15, 2022 at Northern Westchester Hospital. She was 89.
Diana Natalie Nastuk was born on December 5, 1932, the daughter of John and Anna Nastuk of Union, NJ. With a steadfast belief in the importance of education, Diana's parents enabled her to be one of only a few local high school graduates to attend college, and she graduated from Hobart & William Smith Colleges in 1954, with a B.A. in English Literature.
Following graduation, Diana worked in NYC, first for WOR-TV/Channel 9, and then for Young & Rubicam advertising, where she supervised the copy typing pool's staff of 35 and trained as a copywriter. It was at Y&R that Diana met Jack Saunders, an account executive whom she married on May 5, 1962. Two daughters, Marcia and then Claudia, soon followed, and Diana shifted her focus for the next 15 years to being a full-time mother, while continuing to run various school programs and charitable endeavors. These included leading the Hobart & William Smith Colleges Annual Giving program for six years, to a record-breaking level for which she won the U.S. Steel award for excellence. She also designed and ran the elementary school newsletter, at Rippowam Cisqua, served on the Parents Council, and supported countless other events and activities for both the school and for St. Matthew's Church; her church coffee hour team has been active for 45 years and counting.
In 1979, Diana returned to the corporate world, where she ran events and special projects for business publications such as Business Week and Fortune. In this role, she quickly immersed herself in the Energy industry and found ways to connect to key leaders ranging from the US Energy Secretary to the President of Mexico, bringing them to speak at conferences that ultimately influenced international Energy policy.
Throughout her life, Diana was always happiest at her Westchester home, where she lived for nearly 59 years raising her family and transforming her house and property over the years through impressively acquired skills as a gardener, stone mason, designer, and painter. In later years, the home expanded to include her son-in-law, Jim, and two grandchildren, Matthew and Catherine. The home welcomed in generations of friends and family who shared in decades of holiday celebrations, gingerbread houses, Scouting events, children's sleepovers, and many memorable gatherings of close friends and relatives. Diana was so pleased that everyone from her own friends to the friends of her grandchildren felt at home with her.
Diana is survived by her daughters, Marcia Chadwick Saunders and Claudia Saunders Bourke, both of NYC and Westchester; son-in-law Jim Bourke, and grandchildren, Matthew and Catherine Bourke. She was pre-deceased by her husband, Jack Saunders, by almost exactly 30 years. Diana was an exceptional woman who accomplished so much in life through boundless determination and ingenuity. She always maintained a sharp wit and sense of humor, and genuinely believed that true happiness in life comes from the joy of helping and giving to others. An example of integrity and resilience, she overcame many challenges in her own life. She taught her children to believe that no obstacle is insurmountable, and that with effort and creativity, anything is possible.
A memorial service will be held on Saturday, March 26 at 11AM at St. Matthew's Church in Bedford, NY. Donations in her memory would be welcomed either to St.Matthew's Church (stmatthewsbedford.org/) or the Ossining Food Pantry (ossiningfoodpantry.org/donate/).
Share Your Memory of
Diana

4 Woods Bridge Road | Katonah, New York 10536
Phone: (914) 232-3033 | Fax: (914) 232-7896 | Email: info@clarkassociatesfuneralhome.com