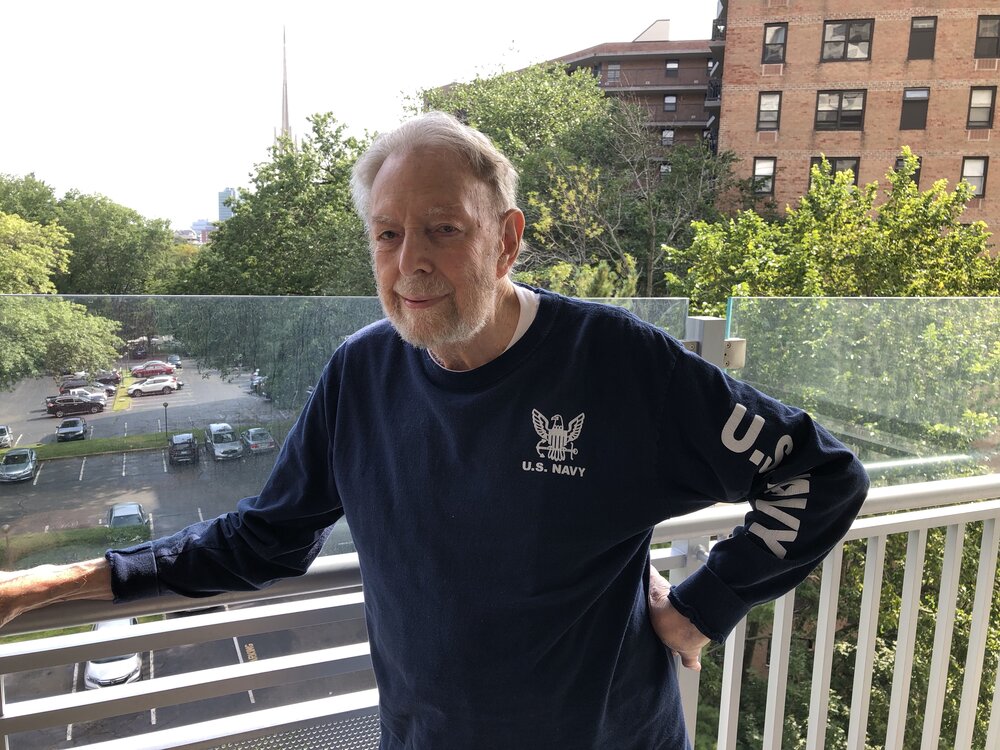 Obituary of Leonard Staub
Staub, Leonard, "Lenny," 91, of Stamford, Connecticut, formerly of Somers, Stony Point, Garnerville, New York, and The Bronx, died Friday, February 4th , 2022 at Stamford Hospital.
He was a first generation American, born on November 4, 1930, to Matis and Anna (Schiffman) Staub, raised in the Bronx, and educated at Samuel Gompers Vocational High School. He nobly enlisted in the U.S. Navy and served during the Korean War, stationed in Guantanamo Bay, Cuba, Norfolk, Virginia, and Washington, DC. He was honorably discharged in 1953.
In October 1956, he married Claire (Weiner). They later moved from The Bronx to Garnerville and then Stony Point, raising three children, Mark, David, and Stacey. He was devoted to Claire, never leaving her side throughout her illness and death in 2000.
He built a long, fulfilling career as a computer engineer at Sperry Univac, which later became Unisys. While there, he worked on many military and defense projects and received U.S. Top Secret Clearance. He enjoyed recounting the days when computers were the size of rooms, and regularly received letters of appreciation from grateful customers. He concluded his career at Pelco, a U.S. Security and Surveillance Technology firm, and retired with many accolades--and great reluctance--when he moved to Heritage Hills in Somers to be closer to his children and grandchildren.
Although his large extended family scattered across the country, Lenny always took great pride that they maintained close ties through the Staub Family Circle, which remains active today. He enjoyed celebrating Hanukkah with his family and was famous for his homemade latkes
Always a talented woodworker, he enjoyed gifting family and friends with custom-made pieces, and built heirloom cradles for his newborn grandchildren and great-nieces and nephews. Hand-crafted wooden toys stamped "Poppi Lenny's Toy Shop" were bestowed upon children far and wide, including those of his caregivers and the new friends he met at Atria in Stamford, where he spent the final eighteen months of his life. Though he was isolated alone in his apartment due to Covid restrictions during his last days, his family discovered after his passing that he had spent that time completing an array of his trademark toy ducks and boats.
In his final years, he was able to make a long-awaited pilgrimage to the war memorials in Washington, DC, aboard the Hudson Valley Honor Flight, accompanied by his son Mark and fellow veterans. There, he was finally able to view the World War II Memorial panel featuring his beloved older brother, US Army Corporal Paul Staub, a member of the famed Robertson Patrol. Throughout his life, Lenny proudly recounted how Paul had snapped the iconic photo of the historic 1945 Elbe Meeting between American and Soviet Troops, an image depicted on a dedicated panel. Lenny's oft-uttered mottos were "It is what it is," and "One day at a time." His final illness was unexpected, and his final days were truly lived on his own terms, one at a time. Now they have run out at last. He was who he was, and his memory is truly a blessing.
He is survived by his son Mark (Wendy) of Katonah, NY; his son David (Nancy) of Groton, Connecticut; his daughter Stacey (Roman) Sypko of Sherman, Connecticut; grandchildren Morgan and Brody Staub, Elizabeth and Caroline Staub, Andrew and Harrison Sypko; several in-laws, many nieces and nephews, myriad cousins, and countless friends.
Upon his death he received full military honors and is interred at Wellwood Cemetery.
Memorial contributions in his name may be made to the Wounded Warrior Project via https://www.woundedwarriorproject.org/ or 4899 Belfort Road Suite 300 Jacksonville, FL 32256.
Share Your Memory of
Leonard

4 Woods Bridge Road | Katonah, New York 10536
Phone: (914) 232-3033 | Fax: (914) 232-7896 | Email: info@clarkassociatesfuneralhome.com